Extras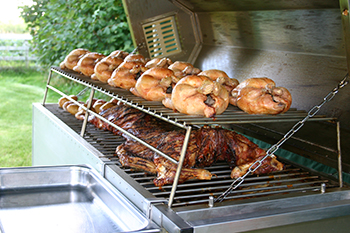 The double-rack system allows you to roast half a pig, or two lambs, chickens, joints, baked potatoes, or any mix you may require for the smaller event, or varied choices that your clients may require.
A stuffing rack sits over the roasting pig and accommodates a full gastrom tray. The heated four lamp gantry provides a professional look to your service.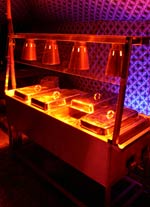 With the roaster top and by putting in four gastrom trays, you can use the roaster as a warmer for currys, chillis and for keeping food up to temperature.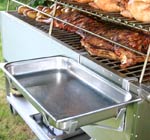 A front serving shelf is
available
to help when serving from
the roaster and there is a useful side attachment to fit a gastrom tray for carving or utensils.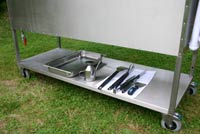 A lower storage shelf can be fitted under the roaster
to help if space is
an issue.
If you want to offer a barbecue, you could consider fitting a second burner to the roaster with a stainless steel griddle area (4mm thick x over 1000mm). This will barbecue up to 30 6oz burgers at one time. Food can be kept hot in the warmer at the end of the griddle.